Book Title: Career of Evil (Cormoran Strike #3)
Author: Robert Galbraith
Publisher: Mulholland Books
Pages: 497
Rating: 5/5 Stars *****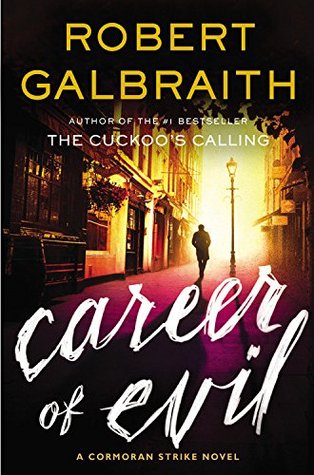 Review:
I am a huge Harry Potter fan so when Jo Rowling wrote a murder mystery series under a pseudonym, I knew I would be instantly hooked. I have read all three of the Cormoran Strike novels and loved them all. The series focuses on a private detective named, you guessed it, Cormoran Strike. After serving in the line of duty in Afghanistan, Cormoran starts his own private detective business and hires a temporary secretary named Robyn who ends up being his partner when it comes to solving cases.
In Career of Evil Cormoran's past history in the military, his mother's history of being a groupie for lousy bands, and his label as a famous amputee all come into play as body parts are sent to his office anonymously. Using Cormoran's knowledge of past acquaintances, Robyn and Cormoran start to unravel the mystery of who is sending the body parts.
A murder mystery alone would just be too simple, Galbraith brings in two main characters who are destined to be star-crossed lovers. Robyn's detective work still seems to be a source of contention to her fiance, Matthew. As Robyn plans her wedding she struggles with whether marrying Matthew is the right thing while obviously contemplating every move Cormoran makes.
As the reader of the murder mystery I was constantly enthralled in the thick of it. The book kept me guessing and on my toes throughout the whole read. The London city life narrative is one I find so interesting and appealing to read and so is the changing point of views. Robyn is a very strong and independent character and she goes through a lot in this novel and I am constantly routing for a happy ending in her case.
I greatly missed Cormoran's visits with his sister in this novel. I feel like his sister annoys him a lot and that bothers me as she is one of few people who care for his well-being. I also think reading about his sister makes Cormoran seem more relatable.
Overall, Career of Evil (Cormoran Strike #3) by Robert Galbraith was a thrilling read that kept me interested all the way through and added to the characters I so greatly love. I rate the novel 5/5 stars as it was well written, interesting throughout, and left me wanting more.
If you have ready any or all of the Cormoran Strike novels, leave a comment letting me know what you thought!
Don't forget to be awesome,
Tara